About us
Our company
1906store.com is the online sales department of ALFARERIA Y CERAMICA LEON SL, with registered office at Pol. Industrial Arbol de la Púas, Calle El Horno, Nave 4 - 14540 La Rambla Córdoba - Spain and NIF B14807762. Registered in the Mercantile Registry of Córdoba 2016, 101, CO 26448, 1st Inscription.
Our store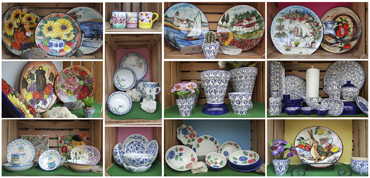 Own manufacture 
Our products are native, manufactured in our facilities. All our pottery is decorated by hand and is made with an exhaustive quality control.
Guarantee and Quality
"
Creates his own designs of pieces, decorated by hand, always experimenting with new materials, clays or enamels, and lending the maximum interest in the finished ones, thus to be able to offer the best quality. Our sanitary registry guarantees the usability of our products for domestic use.
"
1906store